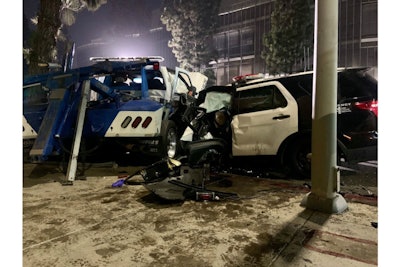 Two Los Angeles Police Department officers were hospitalized Thursday morning in critical and serious condition with injuries suffered in a multi-vehicle crash in South Los Angeles.
The Newton Division officers were responding to a backup call about 9:50 p.m. Wednesday when, based on preliminary information, a tow truck driver ran a red light at an intersection, according to the Los Angeles Police Department.
Video from the scene showed the LAPD SUV smashed against the rear passenger side of the tow truck, with a car and SUV also involved in the crash, the Daily News reports.
One of the officers had to be freed from the wreckage by firefighters using the Jaws of Life.