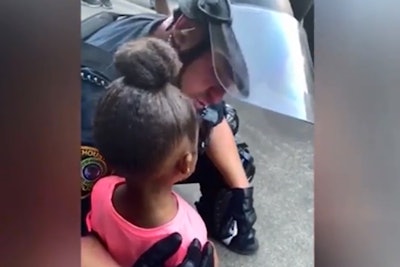 An officer with the Houston Police Department was captured on cell phone video comforting a 5-year-old girl during a protest last week.
According to KTRK-TV, a bystander named Simeon Bartee posted a video of the interaction between the officer and the child to social and it quickly went viral.
The little girl's family was in attendance at a First Amendment gathering to voice their feelings about the in-custody death of George Floyd—a Houston native who died in Minneapolis in late May during an arrest.
Bartee told the news station that his daughter Simone began getting emotional toward the end of the march and approached one of the Houston police officers standing in line.
"She asked him, 'Why do you have on this outfit? Are you going to shoot at us?'"
Bartee said the officer then got down on one knee and wrapped his arm around Simone.
The officer then reassured the girl by saying that he has a daughter of his own and that he wanted everyone at the demonstration to be safe.
Bartlee added, "I think that's where it's going to start—us being compassionate on both sides
"Thank you," Bartee said. "Thank you for giving me a different perspective."