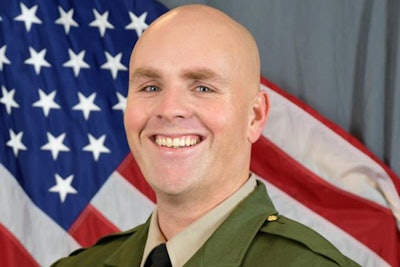 The FBI is investigating whether the ambush attack and murder of a sergeant with the Santa Cruz (CA) Sheriff's Office over the weekend is in any way related to the killing of Federal Security Officer Dave Patrick Underwood in a shooting in Oakland (CA) late last month.
According to CNN, Sergeant Damon Gutzwiller was shot and killed as he and other deputies investigated reports of a suspicious vehicle that reportedly contained firearms and bomb-making materials.
Around 1:30 pm on Saturday, Santa Cruz deputies responded to a call about the van.
When deputies arrived at the scene, the van was seen leaving the area. Deputies followed the vehicle until it arrived at a residence in Ben Lomond.
Deputies were then ambushed with gunfire and multiple improvised explosives, leaving one deputy dead and others injured, the sheriff's department said in a press release.
After the ambush attack, Sergeant Gutzwiller was transported to a nearby hospital where he was later pronounced dead. He had been with the sheriff's department since 2006
During that incident another officer was also wounded—the condition of that individual has not been released.
The FBI San Francisco said a statement, "We are working with the Santa Cruz County Sheriff's Department to determine a possible motive and/or links to other crimes committed in the Bay Area, to include the shooting of the FPS officers in Oakland."
The suspect in the Santa Cruz shooting—identified as Steven Carrillo—is an active-duty staff sergeant at Travis Air Force Base, according to an Air Force public affairs officer.