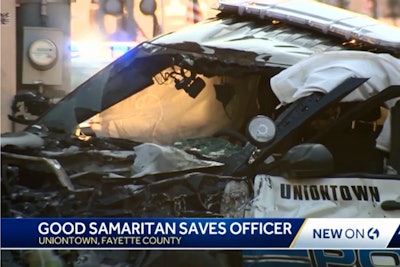 A Pennsylvania man is being lauded for his heroic action to help remove an officer with the Uniontown Police Department who was trapped in a vehicle following a collision on Sunday afternoon.
According to CBS News, the man—Daylan McLee—was at a Fathers' Day event with family when he saw the police officer pinned to the ground by his patrol vehicle following a crash.
McLee sprang into action and demonstrating what bystanders would later describe as "Herculean strength" pulled Officer Jay Hanley to safety just before the vehicle became engulfed in flames.
In an interview with KDKA-TV after news of his heroism became known, McLee humbly said, "I know this man is my brother through Christ, and I couldn't leave him behind."
Uniontown Mayor Bill Gerke—who has known McLee for many years—told WTAE-TV, "He said he's a God-fearing man and he cares about all human beings and no one was going to die on his watch."