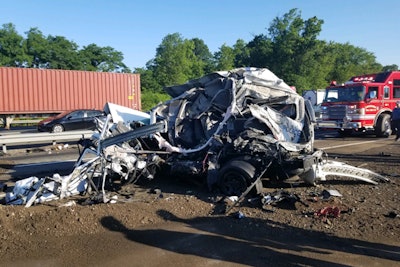 A trooper with the New Jersey State Police trooper was thrown 30 feet from his patrol vehicle in a vehicle collision with a dump truck Monday on the New Jersey Turnpike.
According to NJ.com, the trooper—whose name has not been released—was seriously hurt, but expected to recover from his injuries.
The New Jersey State Troopers Fraternal Association said on Twitter, "Our Trooper involved in this morning's terrible Turnpike crash is currently alert and conscious. He is at a local hospital and having tests done now. Please keep him in your thoughts and prayers!"
"How that trooper lived, is unbelievable," acting State Police Superintendent Patrick Callahan said.