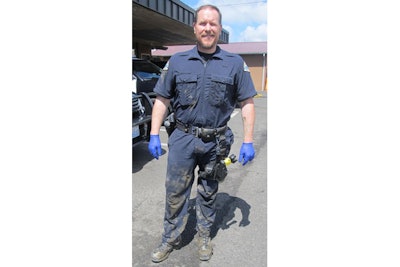 Officers with the Aberdeen Police Department rescued a woman from rushing rapids in a river on Sunday morning.
According to The Daily World, a department spokesperson said that it was unclear whether the 37-year-old woman had fallen into the Wishkah River accidentally or was attempting self-harm.
Responding officers quickly acted to retrieve her from the water, pulling her to safety before observing another woman emerging from the river under her own power.
An agency spokesperson said that "an officer was able to get to her location, drop his ballistic vest, and descend down muddy pilings and pull her out of the water. With the assistance of the second officer arriving to his location, together they were able to pull the woman up into the dry river grass, where paramedics arrived and took over."
EMS responders then transported the victim to a nearby hospital for evaluation. Her condition has not been released.
The officer who pulled the woman out of the river was pictured in a Facebook post but not named. The agency said that the officer "wanted no personal attention for the team effort."