The National Police Association is asking the city of Palo Alto, CA, to remove an image of convicted cop killer Joane Chesimard (aka Assata Shakur) from a 245-foot-long and 17-foot high Black Lives Matter mural that covers the street near City Hall.
NPA says the mural consists of 16 individual images, one for each letter in "Black Lives Matter." The "e" image honors Chesimard/Shakur.
Chesimard/Shakur killed New Jersey State Police Trooper Werner Foerster on May 2, 1973.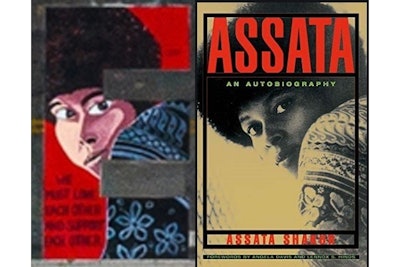 Trooper Foerster was assisting Trooper James Harper with a traffic stop for an equipment violation. Unknown to either man, the stopped vehicle contained three members of the Black Liberation Army, a group that had declared war on the United States and killed 13 police officers. All three in the car opened fire on the troopers, with Shakur firing first. Trooper Harper was wounded. Foerster killed. Shakur escaped but was later caught, tried and convicted of first degree murder, assault and battery of a police officer, assault with a dangerous weapon, assault with intent to kill, illegal possession of a weapon, and armed robbery. She later escaped from prison and was granted political asylum in Cuba by the Castro regime where she is believed to still reside.
"If it is not possible to imagine putting a 17-foot tall mural of nurse killer Richard Speck in front of a hospital or putting a 17-foot tall mural of Dan White, who assassinated San Francisco Mayor George Moscone and Supervisor Harvey Milk, in front of a mayor's house, the atrocity of the celebration of a fugitive convicted cop killer in front of Palo Alto's City Hall is equally reprehensible," the NPA says. "For law enforcement required to enter the building is there any description other than a hostile work environment?"
NPA is asking supporters of law enforcement to sign a petition which will be delivered to the City and contact the following: https://nationalpolice.org/new-jersey-state-police-trooper-werner-foerster-was-killed-in-the-line-of-duty-the-city-of-palo-alto-ca-put-a-mural-of-his-killer-outside-of-city-hall-here-is-how-to-ask-them-to-remove-it/
KTVU reports that the city's Chief Communications Officer Meghan Horrigan-Taylor released a statement for the city, which said, in part, "The mural is temporary, and the City has no plans to expedite the removal of the mural sooner than currently planned. In no way does the mural take away from the value we have in our police officers who serve our community every day. Temporary art is a means of expression on difficult issues and the Black Lives Matter mural is thought-provoking and is inspiring conversation."