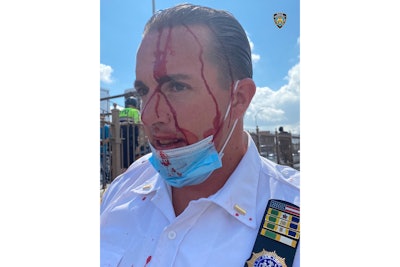 Multiple NYPD officers, including the city's top uniformed officer, were injured when they were attacked at a "Stop the Violence" protest on the Brooklyn Bridge on Wednesday morning, police said.
Two officers were seriously injured. Their condition was not reported.
Chief of Department Terence Monahan's finger was broken when he was struck with an object, police told the New York Post.
The officers were reportedly marching with community members protesting the city's unprecedented rise in gun violence. It appears they were attacked by anti-police counter protesters.
NBC New York reports: Thirty-six people were arrested, according to the NYPD. Most appear to have been involved in the Occupy City Hall demonstrations; none arrested were part of the "Stop the Violence" rallies calling for an end to gun crimes in the city.
It's not immediately clear what led to the violence, but video posted to the NYPD's Twitter account shows a group of officers attempting to detain a man on the roadway. A group of protesters stand near the fencing on the walkway above, and a man with what appears to be either a cane or a pipe runs up and whacks the officers twice.
"This is not peaceful protest, this will not be tolerated," the department said in a tweet.
Three officers violently attacked by protesters crossing the Brooklyn Bridge. The officers sustained serious injuries.

This is not peaceful protest, this will not be tolerated. pic.twitter.com/cYuDX8G7ku

— NYPD NEWS (@NYPDnews) July 15, 2020