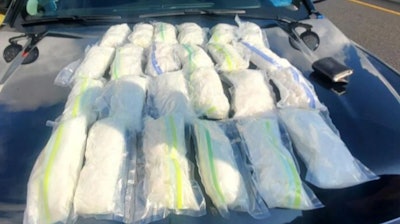 Officials with the Joint Narcotics Enforcement Team in Lewis County, WA, discovered 24 pounds of methamphetamine during a recent traffic stop that was prompted when officers saw a child in a passenger seat of the vehicle not secured in an appropriate child safety seat.
According to KIRO-TV, police said they pulled over a van after seeing that a female passenger had a baby on her lap in the front seat.
Police said the van was rented out of California and was being driven by a man identified as Gabriel Angel Diaz-Noriega, a resident of Mexico. The passenger seat was occupied by a woman identified as Norberto Becerra as well as the young child.
A K-9 was deployed at the scene and alerted to the presence of the drugs.
Becerra and Diaz-Noriega were booked into the Lewis County Jail and both had bail set at $100,000.