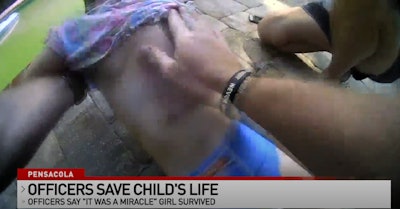 When Pensacola, FL, police officer Kyle Skipper heard dispatchers on his radio announce that a 3-year-old girl had been found floating in a backyard swimming pool near his location, he immediately turned his cruiser in her direction.
The Pensacola PD on Monday credited Skipper's quick actions along with the heroics of fellow Officer Robert Lindblom with saving the life of that unconscious toddler who was found floating in a backyard pool on June 13, the News Journal reports.
Skipper was the first officer to arrive on scene. When Skipper arrived, the girl's grandmother was attempting to perform CPR on her granddaughter who was not breathing and remained unresponsive.
Skipper began hitting the toddler's back, trying to clear her airway.
Lindblom then arrived at the home, and he and Skipper began to work to save the girl's life, said PPD spokesman Mike Wood.
In a written release, Wood described how the incident unfolded.
Both officers crouched over the girl and tapped her back as she lay on her side near the pool, her appendages turning darker shades of purple.
Officer Lindblom also began chest compressions until the 3-year-old find took a breath, regaining her pulse.​
"The officers laid the child on her side in an attempt to keep her airway clear," Wood wrote. "The officers used their fingers to clear vomit from the child's mouth, and the child began breathing better and began to move."
"When I saw her take that breath, I really just thought it was a miracle. when we arrived on scene I didn't expect her to recover," Lindblom told WEARTV.
The little girl was transported to a local hospital and she is doing well.
Here's body cam footage as two #Pensacola Police officers save a 3 y.o.'s life after she was found floating in a pool. When they got there the toddler was not breathing & her arms were purple. Tune into @weartv tonight at 10 to hear from these men, now being called heroes. pic.twitter.com/SE4xJRGSD2

— Renee Beninate (@reneebeninate) July 28, 2020