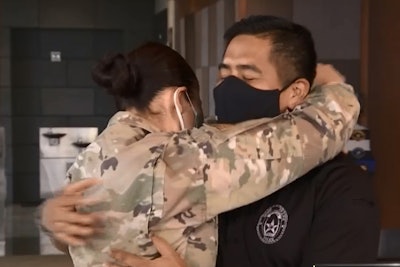 An officer with the Grand Prairie (TX) Police Department was conducting a press briefing when his wife of 15 years surprised him after being deployed for six months in Iraq.
The agency posted video of the surprise reunion on its Facebook page, saying that former Officer Molina (now Senior Master Sergeant Molina) left Grand Prairie PD in September 2019 to join the United States Air Force.
She recently returned to Texas to surprise her husband, Officer Molina at the Grand Prairie Police Department.
The social media post said, "She is home for good! They both were hired at GPPD in June of 2017 as lateral police officers. Fun fact: Before they became officers, they applied to police departments separately, and didn't tell each other. Then, on the same day, they shared the news that they had applied. Two peas in a pod. They've been married 15 years strong."
The post concluded, "It took a village to make this surprise a success and it went off without a hitch!"