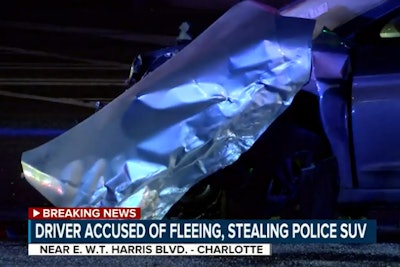 On Wednesday night, a man reportedly stole a patrol SUV, dragged an officer with the Charlotte-Mecklenburg (NC) Police Department for a distance, and then led officers on a vehicle pursuit that lasted nearly a half hour before crashing.
According to WBTV News, the suspect was wanted for armed robbery of an AT&T store in Gaston County on Wednesday evening.
CMPD officers located the suspect vehicle's and began a pursuit but ended it because they determined that the danger to the public was too great. The department did, however, continue to track the suspect vehicle from a helicopter overhead.
The suspect soon crashed and ran into an apartment complex.
Officers then followed, and soon found the individual. A struggle reportedly ensued and eventually the suspect got into a patrol vehicle and attempted to flee the scene, dragging an officer for several feet, police say.
The suspect then crashed into another car, leaving the driver of that vehicle with minor injuries. Officers were then able to take the suspect—whose name has not been released—into custody.
The officer suffered minor injuries.