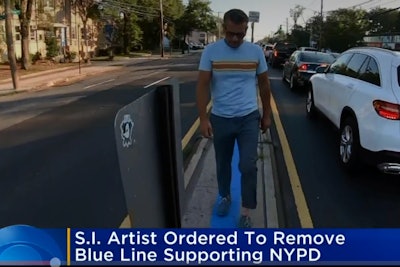 An artist who is a supporter of law enforcement officers recently painted a blue line in front of a police precinct house on Staten Island in New York. Now he's been told by city attorneys representing the Department of Transportation that he must remove the paint and restore the pavement to its original condition.
According to CBS News, Scott LoBaido painted the blue line along a divider outside the 122nd Precinct stationhouse in late July.
He's now being told to remove it because he needs a permit.
LoBaido argues that Mayor Bill de Blasio did not get a permit to paint Black Lives Matter on Fifth Avenue and that his art installation is equally valid. LoBaido is now auctioning his DOT letter with the intention of donating the proceeds to the New York City Cops and Kids Boxing Club.