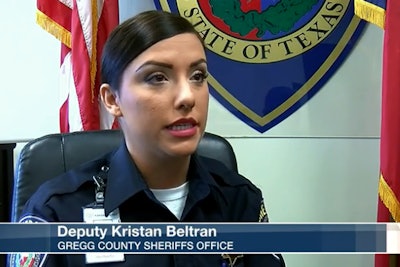 A deputy with the Gregg County (TX) Sheriff's Office has returned to duty after battling a rare disease that left her paralyzed from the waist down for a lengthy period of time.
According to ABC News, Deputy Kristan Beltran became very ill with a form of flu, which led to a rare complication that causes partial paralysis. She was hospitalized and told she might not have use of her legs for up to two years.
However, she rehabilitated her legs through physical therapy, grit, determination, and sheer force of will and is now back on the job just a year after becoming ill.
"I think Deputy Beltran represents what every department would want," said Gregg County SO Captain Craig Harrington. "That kind of integrity is hard to find these days."