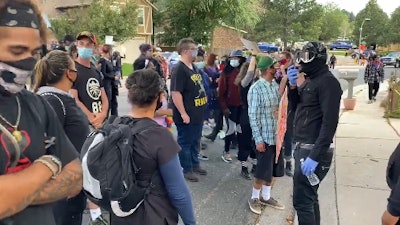 About 100 protesters gathered for about an hour Monday in the neighborhood of one of the Colorado Springs police officers involved in the fatal officer-involved shooting of De'Von Bailey one year ago. The shooting was ruled justified by a grand jury.
Colorado Springs police tweeted Monday evening they were aware of the protest, occurring in the Pulpit Rock residential neighborhood. At about 5:30 p.m., police announced the protest had became unlawful as demonstrators marched down Pulpit Rock Drive, blocking the road.
At about 5:50 p.m., Colorado Springs police issued a shelter-in-place order for residents on Pulpit Rock Drive because of what they called "the civil disturbance/protest" in the area, the Gazette reports.
In November, a grand jury ruled the officer-involved shooting of 19-year-old Bailey was justified, and cleared the involved officers, Alan Van't Land and Blake Evenson, of any wrongdoing.
Van't Land and Evenson were responding to an armed burglary call on Aug. 3, 2019, in a neighborhood southeast of Memorial Park where they encountered Bailey and his cousin, Lawrence Stoker.
The officers opened fire after repeatedly warning Bailey to put up his hands as he ran from them. Bailey was shot four times in the back and elbow by officers Van't Land and Evenson, who were reported as being fearful that he was reaching for a gun.
The body-cam footage released by investigators confirmed Bailey was armed, showing officers removing a pistol from his pocket after he was on the ground in handcuffs.