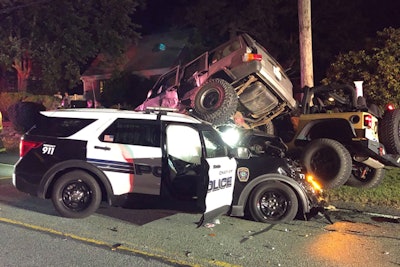 An officer with the Chatham Police Department was injured in a three-vehicle wreck Tuesday night. Two other motorists were injured in the incident, all with serious but non-life-threatening injuries.
According to the Boston Herald, the collision caused a Jeep Cherokee to land on top of the police cruiser, with a Jeep Wrangler partially lifted off the ground at the accident scene.
The three people injured in the collision were transported to a nearby hospital for treatment and later released.
The crash is being investigated by the Cape Cod Regional Law Enforcement Council's Crash Reconstruction Team along with the Barnstable County Sheriff's Office.