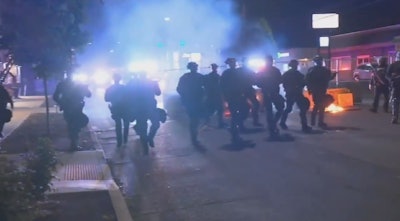 A front line Portland police sergeant recently spoke with local TV news about the effects more than 80 nights of riots and protests have had on himself and his collegues.
"It's been really hard," said Sgt. Josh Silverman told Fox 12. "It's a little bit like putting your head down and weather the storm."
The police bureau has released photos of officers' injuries from fireworks and other objects hurled by protesters.
"We're getting banged up," Silverman said. "We've had some broken hands, broken wrists, broken foot, stuff like that, some concussions."
"I've had some hearing loss," Silverman added. "I've had mortars explode right next to me, my pants have singed and destroyed, but no serious injuries."
Officers responding to protesters are also taunted with expletives and insults on top of demands for defunding police and statements that police work is harmful to society.
"That cuts because we care about those things," Silverman said. "We got into this job to protect vulnerable people."