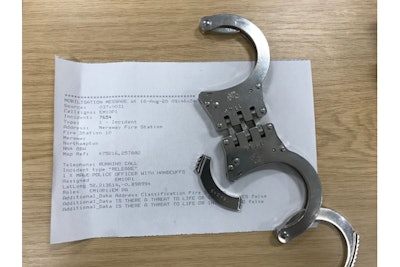 An officer in Northamptonshire—a city in central England—had to have firefighters snip him out of a jam involving his own handcuffs early Tuesday.
According to CNN, Sergeant Scott Renwick posted on Twitter, "Well that wasn't a good start to the day. Thanks to @northantsfire for cutting me out of some broken cuffs."
Sergeant Scott said that he had to walk to the fire station to have the handcuffs cut and removed.
Scott was conducting a training exercise at the time of the incident.
The social media post finished, "#NotFunny. I would have laughed too!"