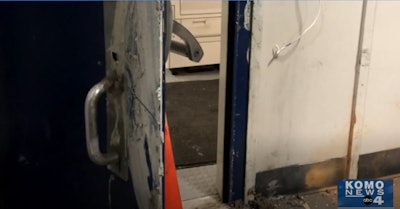 A group of Seattle rioters Monday reportedly tried to seal the doors of a police precinct and set it on fire with officers inside.
New SPD surveillance video from the East Precinct shows rioters setting fires around the precinct, after trying to cement the door shut with quick-setting cement, while officers are inside. The officers escaped and the building did not burn.
"That's not a protest, that's not a demonstration that's a directed attack against the police," said Sgt. Randy Huserik told KOMO.
"They mixed up the 'Quikrete' and then tried to seal off the exits," said Sgt. Huserik. "I don't think there's a lot of leaps that have to be made about what their intent was last night."