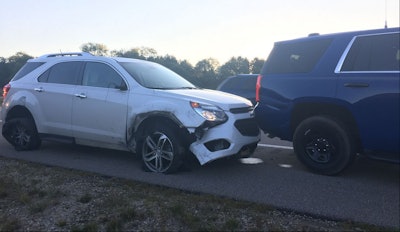 A Michigan State Police Trooper is being credited with saving the life of a driver who had a stroke while driving. The motorist, 84, reportedly continued to drive for more than 100 miles during the medical event, wearing out his brakes and shredding his tires.
Michigan State Police Trooper Tyler Baker, from the Cadillac Post, was dispatched to U.S. Route 131 in Wexford County around 7 a.m. Tuesday for a vehicle being driven on four flat tires.
The vehicle was located and Baker activated his emergency lights and siren, but the vehicle did not stop, according to police.
After making several attempts to pull the driver over, including pulling alongside the vehicle and verbally ordering the man to pull over, Baker pulled in front and slowed the patrol vehicle to stop it. There was minor damage to his patrol vehicle.