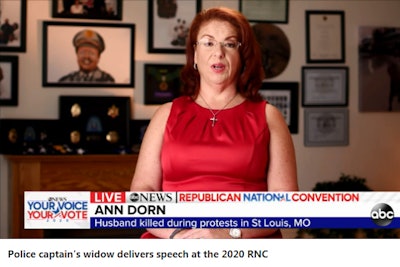 The widow of a retired officer with the St. Louis Police Department who was killed during a riot in June spoke via video conference to the Republican National Convention Thursday night.
According to ABC News, Ann Dorn—whose husband was David Dorn—used the time before the audience to support President Donald Trump's call to use federal officers to fight crime in cities.
Captain Dorn, a 77-year-old African-American was fatally shot by a gunman looting a pawn shop during rioting sparked by the death of George Floyd in May. The 77-year-old retired police veteran had attempted to intervene in the looting and gave his life in the effort.
Following her appearance at the RNC, Dorn's children made statements that their father never supported the candidate and criticized Ann Dorn for appearing at the convention.