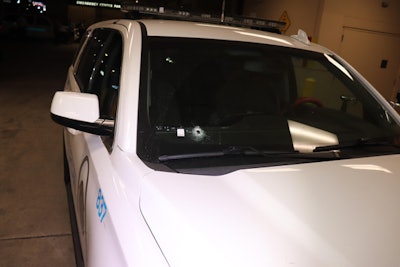 An officer with the St. Louis Police Department who was shot during a traffic stop over the weekend is now listed in stable condition and is expected to fully recover from his wounds.
According to the St. Louis Post-Dispatch, the officer was following an older model red Impala because it had no license plates. Officers effected a traffic stop, and someone in the vehicle opened fire on the two officers in the squad car—it is unclear if the gunman was the driver or a passenger.
The agency posted images on Twitter of the patrol vehicle that was struck by gunfire, saying, "We are grateful that our officers were not critically injured during last night's officer involved shooting in the College Hill Neighborhood. This is the officers' vehicle that was struck by gunfire while both officers were still inside."
Chief John Hayden said the officer who was shot is 35 years old and has been with the department for 12 years.