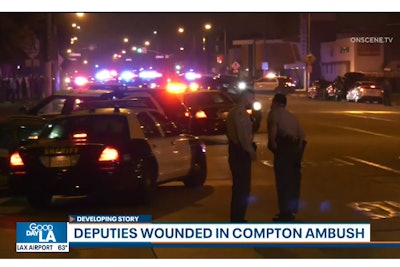 Two deputies with the Los Angeles County Sheriff's Department who were shot in an ambush attack over the weekend are expected to recover, according to the agency.
According to Fox News, Sheriff Alex Villanueva said that the two deputies are recovering in stable condition and with a good prognosis.
"It looks like they're going to be able to recover," he said.
Meanwhile, the search for the assailant continues unabated, as agencies from around the region look for the gunman who launched the sudden and unprovoked attack.
Early reports indicated that there was an ID on the gunman, but the LASD quickly corrected that misperception.
The agency said on its Facebook page early Monday morning, "Currently, there is a social media post that is being circulated which identifies a male out of the Los Angeles area as the suspect responsible for the ambush of our 2 deputies yesterday. This is ERRONEOUS information and there are no named or wanted suspects at this time."LASD has announced a $100,000 reward for any information leading to the gunman's arrest.