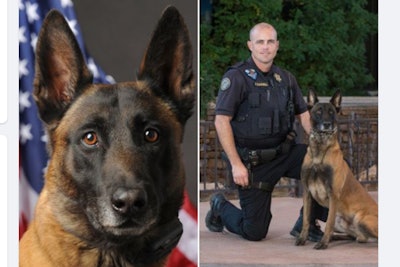 Officers with the Scottsdale (AZ) Police Department are mourning the sudden death of one of it's K-9s after it was diagnosed with a brain tumor.
The agency said on its Facebook page, "It is with heavy hearts we announce that on 09/11/2020, Police Service Dog, Castro, passed away from complications related to a brain tumor. At the time of his passing, PSD Castro was still serving in his capacity as a dual-purpose Patrol/Narcotic Canine. His diagnosis was received earlier that same week. We are sad that it progressed so quickly, but we are glad that he did not have to suffer."
The agency said that K-9 Castro began service with the department in July 2014.
"In his 6 years with the Department, he has been on several thousand calls for service and he provided assistance hundreds of times for the Drug Enforcement Unit and SWAT," the agency's social media post said.
The post concluded, "Castro was an extraordinary Police Canine and he will be sorely missed. Farewell Castro, Good Boy!"