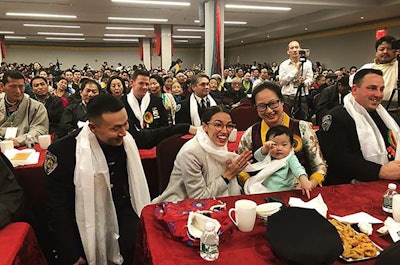 An NYPD officer has been charged with spying on Tibetan nationals and Tibetan Americans in New York City on behalf of the Chinese government.
The New York Post reports that Officer Baimadaijie Angwang raised alarms by his behavior at a Tibetan New Year party that he attended in uniform and where he was photographed sitting next to U.S. Rep. Alexandria Ocasio-Cortez.
A former president of the Tibetan Community of NY & NJ said the group became suspicious of Officer Baimadajie Angwang, 33, and "cut off the relationship" with him following the event at its community center in Woodside, Queens, last year.
Angwang, a decorated former US Marine and a US Army reservist with a "secret" security clearance, is charged with illegally acting as an agent of a foreign government, as well as wire fraud, false statements and obstruction of an official proceeding.
The latter charges are all tied to a Department of Defense security clearance form on which he allegedly lied by denying contacts with any Chinese officials or family members with ties to the People's Liberation Army, namely his father and brother.
Angwang is being held without bail and faces a maximum 55 years in prison if convicted.