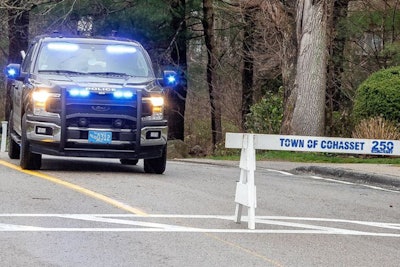 The chief of police in Cohasset (MA) has announced to local citizens that the police officers hired for the summer tourist / vacation season will remain on the force for an indeterminate period of time as the community continues to deal with the COVID-19 pandemic.
The agency said in a written announcement that the seasonal force—consisting of 12 officers—patrol duties usually end after Labor Day, but "as a result of the COVID-19 pandemic their duties have been extended into the fall."
The seasonal officers typically work on bicycle or foot patrol assignments at local beaches, trails, parks and other areas of interest to seasonal visitors. Their primary function this year has been to help with crowd control, social distancing and following COVID-19 regulations for those visiting the area.
"We are grateful to be able to have these patrol officers to continue to keep our community safe during the COVID-19 pandemic," Chief Quigley said in the agency press release. "Through increased patrols and visibility, these 12 officers will help us to continue to monitor the happenings in our community and make sure all residents and visitors to Cohasset are practicing the proper COVID-19 safety measures."