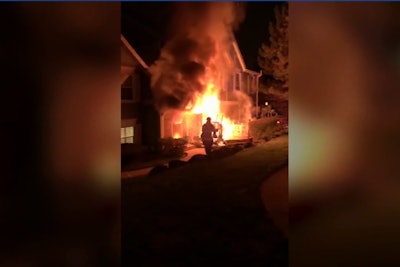 An officer with the Lisle (IL) Police Department is being lauded as a hero in the community after he rushed into a burning building, remerging into the safety of the outside with a 14-year-old boy in his arms.
According to ABC News, the fire broke out at a multi-unit home shortly before midnight and Lisle Police Officer Bill Wise was first on the scene.
Before firefighters arrived, Wise rushed into the building to search for victims trapped inside.
Officer Wise was transported to a nearby hospital for treatment of smoke inhalation.
Lisle Police Chief Ron Wilke told reporters, "This is a prime example of why we have the police. He was the first responder on the scene. Had he not been there, there may have been a neat different outcome on this and that would have been tragic and terrible so this is why we have the police to do heroic events like this every day."