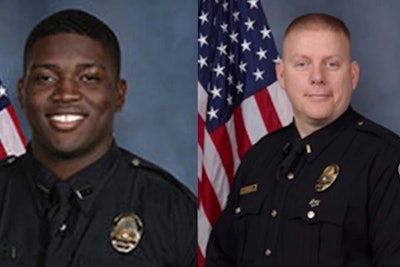 Two officers with the Louisville Metro Police Department were shot and wounded Wednesday night as what had been a mostly peaceful protest during daylight hours devolved into a riot after the sun set and a government-issued curfew loomed over the city.
According to the Louisville Courier-Journal, the officers--LMPD Maj. Aubrey Gregory and Officer Robinson Desroches were shot around 8:30 p.m. Both are listed in stable condition with non-life-threatening injuries and one suspect—identified as 26-year-old Larynzo Johnson—has been taken into custody. Johnson is expected to be arraigned Friday morning.
Multiple small fires were ignited in trash cans near the center of the city. Most businesses had boarded up their storefronts in the hours before the anticipated announcement of the findings of the grand jury, so damage to commercial spaces was mostly mitigated. However, nearly 130 people were arrested during the overnight unrest.
Former Detective Brett Hankison faces three charges of wanton endangerment in the incident that left Breonna Taylor dead, but those charges are not directly related to her death. They stem from the accusation that Hankison allegedly acted outside of department policy when he fired his service pistol through a closed door. Three of his rounds went into surrounding occupied apartments.
Agency policy requires a clear line of sight to an intended target—a closed door would prevent that capability. Chief Robert Schroeder said that he terminated Hankison's employment with the agency after a brief investigation into the incident, saying that Hankinson had "fired indiscriminately" into Taylor's apartment as well as into adjoining units.
Hankison was booked into the Shelby County Detention Center on Wednesday afternoon and released about half an hour later after posting a $15,000 cash bond.
Hankison is the only LMPD officer to be fired for his role in the fatal raid at Taylor's apartment. The other two officers who fired their weapons at Taylor's apartment during the incident—Sergeant Jonathan Mattingly and Detective Myles Cosgrove—will not face criminal charges and remain on the force.
All three officers at the scene were returning fire after a man in the apartment—identified as Kenneth Walker—shot one of the officers attempting to serve a warrant on the residence.
Protests in other cities across the country—including New York and Los Angeles—also resulted in some levels of violence, but Louisville was the epicenter of the demonstrations and rioting following the grand jury's ruling. Officials in Louisville are bracing for additional nights of violence as the weekend approaches.