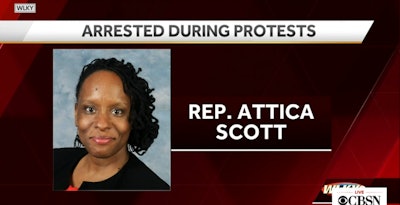 A Kentucky lawmaker who proposed a statewide law to end "no-knock" search warrants was arrested during rioting in Louisville on Thursday night, WLKY reports.
State Representative Attica Scott was booked Thursday evening on one count of unlawful assembly, one count of failure to disperse and one count of riot in the first degree. According to an arrest report, Scott was part of a large group that was told to disperse but failed to do so. The arrest report alleges that she "caused damage at multiple locations, including setting fire to the Louisville Public Library."
Scott was released Friday morning. She told WLKY that she's ready to fight the "frivolous" and "trumped up" charges.
"They (LMPD) claimed we were trying to burn down library which doesn't make sense because I've been fighting for more funding for the libraries and the library is in my district. So, why would I try to burn it down? Makes no sense," she told WLKY News outside the jail Friday morning.
Scott proposed a bill that bans no-knock warrants, requires police to wear body cameras while executing search warrants, and mandates that officers undergo alcohol and drug screenings following deadly force incidents. If enacted, it would apply to the entire state of Kentucky.