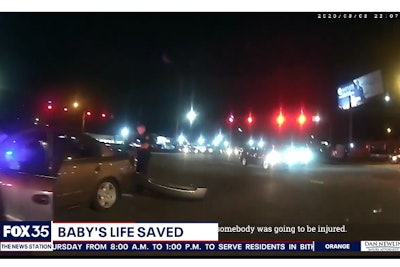 An officer with the Orlando Police Department who saved the life of a one-year-old girl at the scene of a vehicle collision will be honored by the department and the community at a ceremony on Tuesday.
According to Fox News, Officer Curtis Neraasen will receive an award from the Orlando Health Arnold Palmer Hospital where the one-year-old—aptly named Miracle—is recovering from injuries sustained in the crash.
Officer Neraasen was not on patrol when he came upon the crash, but immediately leaped from his vehicle to see if there were injured persons inside the vehicle. He saw the girl, pulled her from the wreckage, and began life-saving care until other responders arrived at the scene.
"I pulled up, I knew someone was going to be injured," Neraasen said in an interview following the incident. "Sometimes we're placed in situations for a reason."