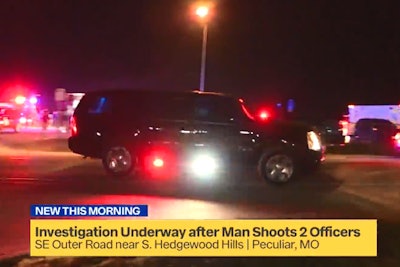 Two officers with the Peculiar (MO) Police Department who were shot and wounded are expected to fully recover from injuries sustained during a gun battle on Saturday night.
According to Fox News, the Cass County Sheriff's Office issued a statement indicating that the officers had responded to a call of an armed man on the streets early Saturday night.
Two responding officers then encountered a man armed with a shotgun. The gunman and officers exchanged gunfire, leaving the officers with what were described as non-life-threatening injuries, police say.
The suspect was reportedly unharmed in the exchange.
The officers were transported to a nearby hospital where they were treated and released.
The identity of the suspect has not yet been released, pending the completion of an initial investigation.