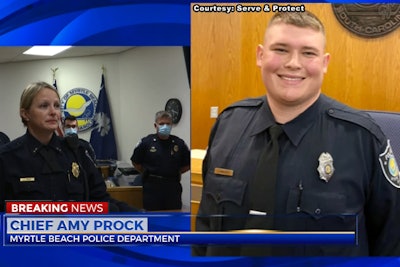 An officer with the Myrtle Beach (SC) Police Department was fatally shot and another severely wounded as they responded to a call of a domestic dispute on Saturday night.
According to CBS News, Officer Jacob Hancher was shot and killed at the scene while another officer—whose name has not yet been released—was transported to a nearby hospital for treatment of injuries described to be non-life-threatening.
Myrtle Beach Police Chief Amy Prock said that Hancher was "a dedicated public servant who upheld his oath to protect this community and made the ultimate sacrifice."
She added, "Please keep Jacob, his family and his fellow officers in your prayers."
Officer Hancher had served with the Myrtle Beach Police Department for one year. He is survived by his mother, father, stepmother, brother, three sisters, and grandparents.