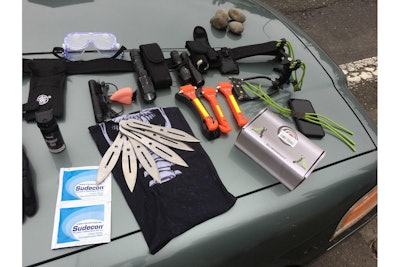 A Portland police officer was attacked in his patrol vehicle Sunday morning. A suspect is in custody.
"A male approached the patrol vehicle, broke out the back window (on the hatch), pepper sprayed the interior, then ran to a vehicle and drove off," the Portland Police Bureau reports.
The officer called in the attack and responding officers were able to locate and stop the vehicle about six blocks away, police say. A suspect was arrested.
"Inside the vehicle, officers found window punch tools, pepper spray, throwing knives, a laser pointer, a slingshot, rocks, and more," police say.
John B. Russell, 41, of Portland, was booked into the Multnomah County Detention Center on charges of assaulting a public safety officer, aggravated harassment, and criminal mischief in the first degree.