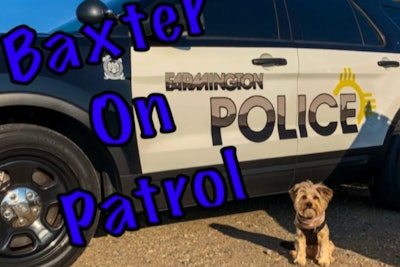 Officers with the Farmington (NM) Police Department are happy to announce that they will now have a new K-9 in their ranks. K-9 Baxter has completed his academy training and will begin his service with the agency as a support "paw-ficer."
According to KRQE-TV, the stray dog was found by officers and determined to be in dire straits. The responding officers took the animal to a local veterinary clinic where he was treated and subsequently released back into the care of the police department.
The agency said on its Facebook page, "Once Baxter finished his academy training, he began his field training! During field training, Baxter learned about patrol operations and how to use a laser to catch some speeders properly. Officer Martinez is a great Field Training Officer and made sure Baxter was ready to hit the streets on his own! Baxter will be helping some of the different divisions here at FPD, and we'll continue to follow him on his law enforcement journey!
K-9 Baxter is expected to serve in a support role, lifting the spirits of officers and victims of criminal activity.