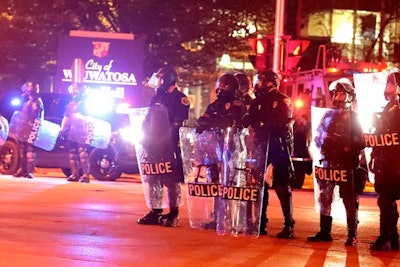 The Milwaukee County District Attorney's Office announced on Wednesday that it would not charge Wauwatosa, WI, Police Officer Joseph Mensah in the death of 17-year-old Alvin Cole in February.
Protests and unrest, including looting, broke out in the Milwaukee suburb of Wauwatosa after dark. Fox News reports some protesters attacked a residential area, smashing the windows of homes and startling families out of bed.
According to the Milwaukee Sentinel-Journal, District Attorney John Chisholm's office found that Officer Mensah "had an actual subjective belief that deadly force was necessary and that belief was objectively reasonable."
Cole had reportedly been in possession of a stolen firearm and refused to comply with commands to drop the gun and at one point during the incident pointed the weapon at responding officers. He was shot by Mensah outside of a local mall.
Earlier in the day, a separate report by third-party investigator Steven Biskupic recommended the Wauwatosa Police and Fire Commission fire Mensah. He was suspended — with pay — July 15, after a unanimous vote by the Wauwatosa Police and Fire Commission.
The Wauwatosa Patch reports that groups from Milwaukee came to the suburb of Wauwatosa for protests and mayhem.