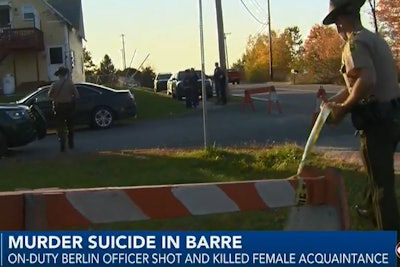 An officer with the Berlin (VT) Police Department reportedly shot a female acquaintance and then turned the gun on himself, dying by suicide at the scene on Monday afternoon.
According to VTDigger.com, the officer—identified as 58-year-old Jeffrey Strock—shot and killed 51-year-old Julie Fandino before firing a fatal shot at himself.
Strock reportedly drove his patrol vehicle to Fandino's residence at a duplex home, confronted her in an outside area described as a porch, and then opened fire.
Strock had worked as an officer with the Berlin Police Department for about 20 years, authorities said.
Detectives from the Vermont State Police Major Crime Unit and Bureau of Criminal Investigations, and the Crime Scene Search Team and Field Force Division were assisted by the Barre Town Police Department in the investigation.