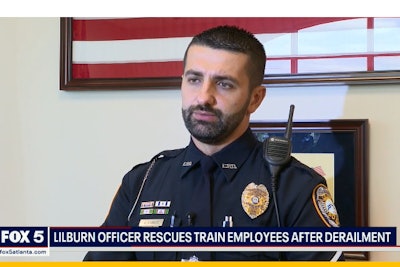 An officer with the Liburn (GA) Police Department is being lauded as a hero for racing into the wreckage of a derailed train to rescue two engineers trapped inside the wreckeage.
According to Fox News, Officer Almedin Ajanovic was finishing an off-duty job early Sunday morning when he heard calls about explosions and a train derailment.
He raced to the scene and immediately took action to save the lives of the engineers trapped on top of the toppled train.
Ajanovic escorted the men to safety and called for other first responders to report to the scene, noting that the area was possibly contaminated with hazardous materials.
The train company—CSX—says the material inside of the damaged rail cars was ethanol.