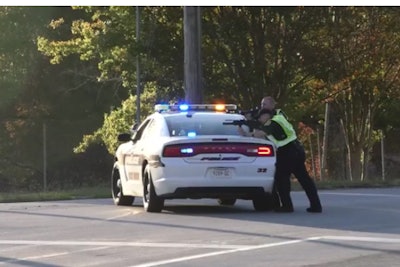 A man suspected to have opened fire on an officer with the East Ridge (TN) Police Department was reportedly fatally shot Monday in northwest Georgia.
According to WDEF-TV News, police say the suspect—identified as 43-year-old Christopher Kitts—fired several shots at the patrol vehicle operated by Officer Terry Prescott over the weekend.
Officer Prescott was transported to a nearby hospital where he is in stable condition.
Meanwhile, Kitts reportedly fled the scene, leading to a manhunt conducted by numerous nearby agencies.
The Georgia State Patrol located the suspect's vehicle, and after a search located the alleged gunman. The responding officers came under gunfire before Kitts was fatally shot.