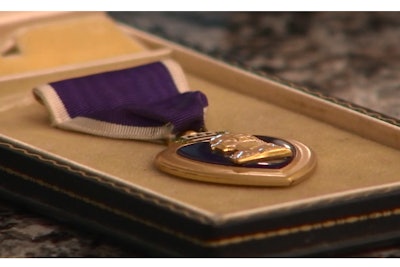 An officer with the Bradenton (FL) Police Department is taking his own personal time to solve a mystery. He wants to find the rightful owner of a Purple Heart Medal given to a paratrooper named Alan Beckwith, who was killed in action on June 7, 1944—one day after D-Day.
According to Fox News, Sergeant Anthony Cerniglia came upon the medal at a pawn shop and was at first aghast that the asking price was $10,000.
"I got extremely angry when I saw the price tag," he told the Fox news outlet.
Then, his detective instincts kicked in, and he launched an investigation of his own to learn who might be the family member of Parartooper Beckwith is the legal and rightful owner of the precious medal.
Cerniglia has found that Beckwith's closest living relatives are a niece and a nephew in their 60s. He is still working to track them down and hopes to give to them the medal awarded to their uncle.