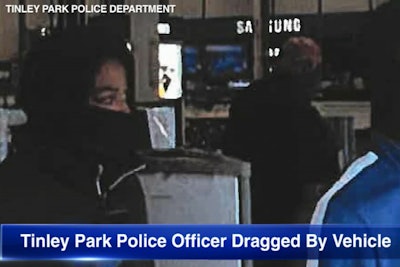 An officer with the Tinley Park (IL) Police Department was injured when attempting to apprehend a burglary suspect on Saturday, the agency confirmed to media outlets on Thursday afternoon.
According to ABC News, the officer—whose name was not released—had responded to calls of at least one subject breaking into a parked car.
The suspect vehicle was located at a nearby electronics store parking lot, and the officer saw two individuals get inside.
The officer attempted to stop the suspects from leaving the area, at one point reaching inside the vehicle. The driver accelerated, dragging the officer for some distance.
The officer was subsequently transported to a nearby hospital for treatment of non-life-threatening injuries.
The two suspects escaped and remain at large.