Rioting and looting erupted in Philadelphia Monday night after two officers shot a black man who was reportedly armed with a knife and advancing on them.
Reports say 30 officers were injured in the rioting, including one who was run down by a pickup truck. Officers were assaulted by thrown objects and explosives during the mayhem. A total of 100 people were arrested, Philly.com reports.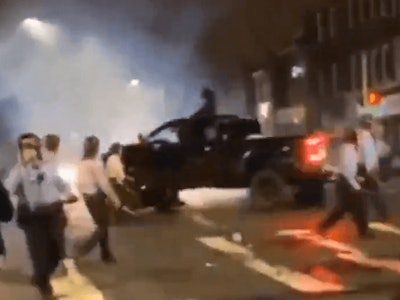 The officer who was run down by a pickup truck early Tuesday was hospitalized. She is a 56-year-old sergeant. Her leg was broken, among other injuries, police told NBC.
All of the other injured officers were treated and release.
The rioting and looting was triggered by police response to a domestic call in West Philadelphia.
At around 4 p.m. two officers arrived on scene and confronted Walter Wallace Jr., 27.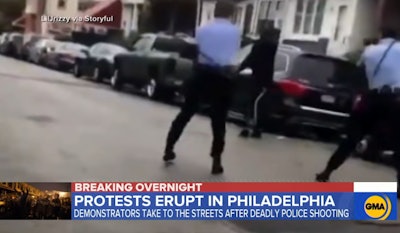 A man identified as Wallace can be seen on citizen video chasing the officers around a parked car. The officers give the man orders to "put the knife down." He appears to advance on them and they open fire.
Wallace reportedly was shot multiple times and died at a local hospital.
Philadelphia Police Commissioner Danielle Outlaw said the shooting video raises questions, but she assured the community that a full investigation is underway, ABC News reports.

"I have directed the Officer Involved Shooting Investigation Unit to begin its investigation. I recognize that the video of the incident raises many questions. Residents have my assurance that those questions will be fully addressed by the investigation. While at the scene this evening, I heard and felt the anger of the community. Everyone involved will forever be impacted. I will be leaning on what the investigation gleans to answer the many unanswered questions that exist. I also plan to join the Mayor in meeting with members of the community and members of Mr. Wallace's family to hear their concerns as soon as it can be scheduled."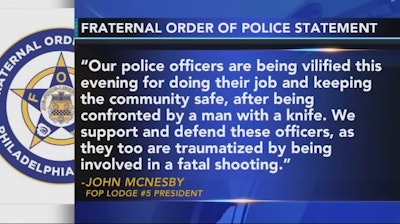 Philadelphia official are expecting more unrest Tuesday night.