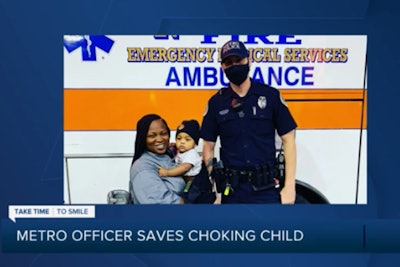 An officer with the Nashville Metro Police Department is being lauded for his heroic action in saving the life of a nine-month-old boy who was choking.
According to WTVF-TV News, Officer Philip Claibourn was attending to another call for service when a woman frantically approached him with a small boy in her arms, apparently choking on something.
Officer Claibourn later told reporters that the mom came to him and handed the baby over as she pled for help.
"I took it and my training kind of kicked in. At the academy, we are taught the Heimlich and CPR for both adults and babies and I could hear that the baby was gasping for air and not really breathing," he said.
Following his life-saving actions, other first responders arrived at the scene and the baby and mom were transported to a nearby hospital for evaluation.