The man accused of the Monday killing of Sgt. Sean Rios of the Houston Police Department was arrested in February for unlawfully having a gun in his car and was released on a $100 bond.
Records show Soliz was previously arrested several times, with charges that range from having marijuana on him to evading arrest and criminal trespass. In 2017, Soliz was accused of threatening his girlfriend at the time with murder, ABC13 reports.
Soliz is accused of being the man who shot and killed Sgt. Rios in a gunfight Monday on a feeder road of the city's North Freeway.
Sgt. Rios was driving to his duty post at Houston's Bush Intercontinental Airport when he apparently answered a "shots fired" call. Police believe that Soliz fired shots at another driver in what may have been a road rage incident.
Police say Soliz was seen speaking with a man in a black shirt immediately Rios was shot and that man is an "extreme person of interest."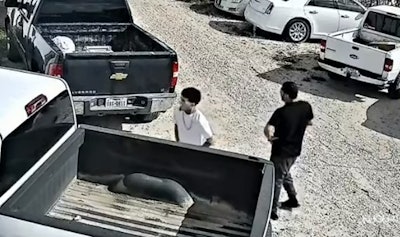 A relative of Soliz told ABC13 that Soliz is a family man who took care of his wife and hadn't been in trouble for years.
The relative added, "(This is) no question, self-defense. Guy with no police. With no uniform, no badge, no nothing. It's 2020. You can't hop out a car with your gun showing and not expect for the other person to have a gun to not."
Soliz is charged with murder. His bond was set at $500,000 Wednesday.
Thursday morning, Soliz appeared in court on two new charges of aggravated assault with a deadly weapon for two separate prior incidents, KHOU reports. Bond for each of the additional charges is $100,000.
KTRK reports that Soliz is allegedly a "documented gang member" of the "The Sauce Factory" gang.
Court documents say Soliz's social media accounts identify him as a gang member and even show photos of him holding guns and large amounts of money.
The attorney representing Soliz on Wednesday said he wants another agency to investigate the incident due to a conflict of interest. Since Rios was an HPD officer, he says that another agency such as the Texas Rangers or Harris County Sheriff's Office should conduct the investigation.