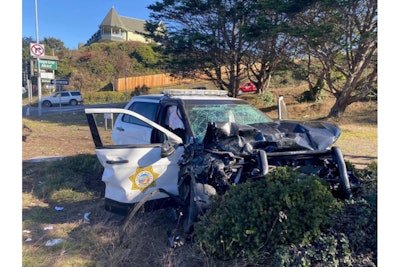 A Eureka, CA, police officer was badly injured in a pursuit crash Wednesday morning.
The incident began with officers responding to a reported assault at a hotel. Upon arrival, officers located the involved parties, a man and a woman. The man was reportedly witnessed assaulting her.
The man was seated in a black Chevrolet Impala. Officers attempted to detain him but he refused to comply with commands or exit the vehicle and drove away, police say.
Officers pursued the suspect. At a nearby intersection the suspect and lead pursuing police vehicle made it through the intersection, however the second pursuing Eureka PD vehicle was involved in a collision with an uninvolved motorist, police told Lost Coast Times.
The pursuit was discontinued.
Emergency medical personnel were summoned to the scene to aid the injured uninvolved motorist and the officer. Both parties were ultimately transported to St. Joseph Hospital's Emergency Room for treatment.
The suspect was apprehended after another pursuit.
The uninvolved motorist was treated and released at the emergency room. The injured officer, Camaron Hooks, sustained moderate to major injuries as a result of the collision. Due to the nature of his injuries, he was flown to a trauma hospital for further treatment.
Eureka PD reports that Officer Hooks was in stable condition when he arrived at the trauma hospital. Surgery was planned.