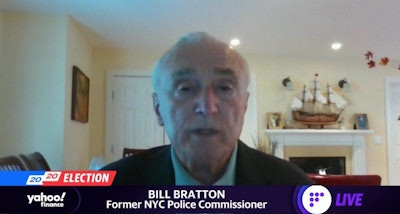 President-Elect Joe Biden had a tough time securing endorsements from police leaders in his third run for the White House. Biden's recent calls for more national policing reforms and his support of the Black Lives Matter movement have created cracks in his long-standing relationship with law enforcement groups.
After endorsing the Obama-Biden ticket twice and then remaining neutral in 2016, the National Association of Police Organizations threw its support behind President Trump this year, along with virtually every other law enforcement organization. NAPO's President called the Biden-Harris ticket, "the most radical anti-police ticket in history."
Former Boston Police Chief, New York City Police Commissioner and LAPD Chief, Bill Bratton, told Yahoo Finance Live that's not a fair assessment. "The Biden experience with law enforcement over the last 40 years will take center stage, and that experience is collaboration," he said.
"They're [Biden-Harris] very mindful of the need for not only law and order, which somehow or another has become a dirty word in this country, but law and order and justice. What's being asked for with criminal-justice reform is reform of the criminal-justice system. So you can have law and order, but you can have justice at the same time, and I think the president-elect is uniquely qualified to fill that bill," Bratton said.
Bratton said the critical first step to meaningful police reform is establishing a set of national standards and urged Biden to address the issue in his first 100 days in office.
"I think now is the time to do it," he said. "That would be my encouragement, of a national commission that ensures that we still have law, that we still have order, but that we have justice in conformity with the criminal-justice reform, which is what many of the groups out there have been marching and demonstrating for," he said.