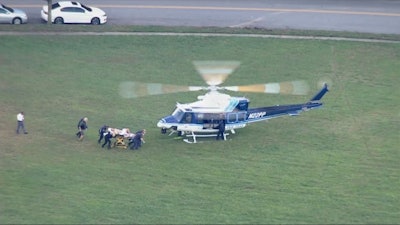 A Montgomery County, MD, officer was shot by a suspect after attempting to arrest the suspect for a homicide on Tuesday, police say. The officer was airlifted from the scene by a U.S. Park Police helicopter and condition is unknown.
The shooting happened in in Laurel in Prince George's County, ABC7 reports. The Montgomery County officer was part of a U.S. Marshals Service task force.
Officers say they were trying to arrest the suspect who was wanted for a homicide that happened in Jacksonville, Florida. The homicide happened last night, according to officials.
"We received information that the suspect was in Maryland and we set up surveillance," police leaders said in a press conference Tuesday evening.
The suspect shot at officers and five officers returned fire killing the suspect, police said during the press conference.