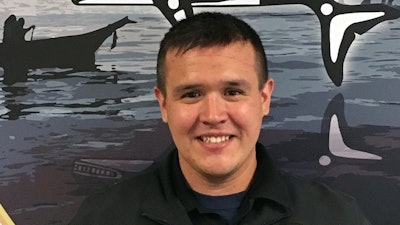 The Coast Guard has suspended the search for a Tulalip Tribal Police Department officer who was reported missing and presumed dead after the boat he was in capsized when a large rogue wave walloped the vessel during the rescue of another vessel near Jetty Island in Washington's Puget Sound Tuesday night.
However, Tulalip tribe members and several other volunteers say they are continuing to look for Charlie Cortez, KOMO says.
Cortez, 29, disappeared after he and Officer Shawn Edge, the 39-year-old boat operator and captain, were thrown overboard shortly before 9 p.m. into the turbulent and 50-degree waters of Puget Sound, according to Everett Fire officials.
In a news release issued Wednesday, authorities said Edge was rescued near Hat Island by Tulalip Tribal fishermen before he was rushed to Providence Medical Center in Everett for treatment. A spokesperson with the medical center says Edge is in stable condition.