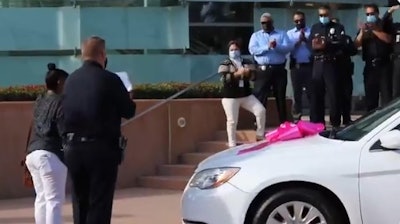 After a Los Angeles woman's car was destroyed by gang members in a act police are calling a "hate crime" Officers from the LAPD's Hollenbeck Division partnered with East LA Auto Sales, the Los Angeles Police Protective League, and Badge of Heart to get her a new one.
LAPD said in a tweet the woman's car was jumped on and vandalized by "gang members." They reportedly jumped on the vehicle, bashed in the doors, and cut racial slurs into the paint. The car was a total loss.
At least one suspect was arrested, Fox 11 reports.
After arresting a suspect for a Hate Crime/Vandalism, @LAPDHollenbeck knew there was more that could be done. They partnered with East LA Auto Sales, @Badgeofheart and @LAPPL to get the victim a new car—and remind us all that in this world, we can all go the extra mile. pic.twitter.com/E2GLB11RIL

— LAPD HQ (@LAPDHQ) November 19, 2020