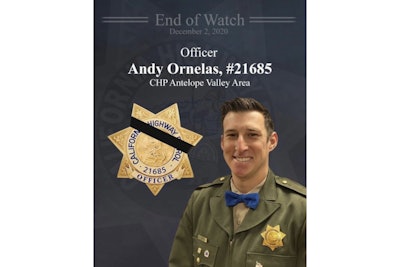 An Antelope Valley California Highway Patrol officer died Wednesday more than a week after he was critically injured in a crash while responding to a call.
The crash occurred about 7 p.m. Nov. 23 when motorcycle Officer Andy Ornelas was on his way to help two people involved in a crash along the 14 Freeway, KTLA reports.
Another motorist didn't see Ornelas' motorcycle approaching him from behind when the driver pulled from the right shoulder to make a U-turn directly into the officer's path, according to the CHP.
Ornelas, 27, sustained multiple injuries and was taken to a hospital in critical condition. He succumbed to his injuries on Wednesday, officials said.