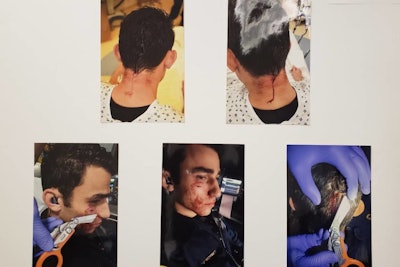 A grand jury has indicted one of the two San Francisco police officers who shot and severely wounded 25-year-old Jamaica Hampton after he attacked them both with a vodka bottle in the Mission District last December, District Attorney Chesa Boudin said Monday.
The grand jury determined on Friday that there is probable cause to believe Officer Christopher Flores committed a crime in connection with the Dec. 7, 2019 shooting, according to Boudin.
The grand jury also returned an indictment against Hampton stemming from the same incident, the San Francisco Examiner reports.
Hampton was rising to his knees after being shot by Officer Sterling Hayes when Flores, a rookie officer still undergoing field training, advanced toward him and fired a single shot, according to body-worn camera footage of the shooting released by police.
Hampton survived but had his leg amputated after being shot.
Boudin has not disclosed the specific charges that Officer Flores or Hampton will face, citing secrecy laws around grand jury proceedings. Both defendants are being asked to voluntarily surrender into custody on arrest warrants.
Nicole Pifari, an attorney for Flores, said both officers fired their guns at Hampton to defend themselves from death or serious injury during a "brutal, unprovoked, and incredibly violent attack."
Police say Hampton struck Officer Flores repeatedly with a Grey Goose vodka bottle before the shooting.